Discovered the owner through the resident's community.
TNR Japan Animal Welfare hospital rescuing the suffering animals from the Tohoku Earthquake and nuclear power plant accident.
April 18th, 2012
Discovered the owner through the resident's community.
We found the owner of the tortoiseshell cat in Ohkuma-machi.
We transfered this cat from Kawasaki to Fukushima on April 22.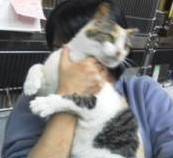 How we find the owner is that first of all we leave the food in the owner's yard or barn. As you imagine, other cats also find this food. We are always informed about this by the owner. We can check whether cats came or not by the reduction in food. Then we set the capture cage. The cat in the capture cage is protected. If we capture a cat not belonging to the owner, we have to try to find that cat's owner.
This may be old-fashioned, but it's a reliable way. We always try to find the owner through community connections.
We show the cat's photos, which we took around the owner's house. Even if the owner doesn't see their own cats, they sometimes realize that this cat may be the neighbor's cat. Then we try to find that neighbor, wherever they evacuated to. If we are lucky, we find the owner. If not, we ask this owner to set the food and capture cage in their own yard. We can get a variety of kinds of information through this activity.
We found the owners for 8 cats in Ohkuma-machi. Now we are searching for more. This result is because of the relationship of the residents. The owner, who found their cat, will allow us to leave food in their yard.
On April 22, 3 cats going home to Fukushima from Kawasaki. We can go again to rescue more cats in Fukushima.
Fukushima in April.