Donation event in Fukushima
Thank you so much for the donation event in Fukushima.
On April 22nd, we held a donation event and exhibition of photos by Kouji Nakagawa in "Michinoeki Hirata", located at Hirata-mura, Ishikawa-gun, Fukushima. This time we joined with a veterinarian, because 2 dogs from Fukushima Kita health center, and some kittens, were involved.
This donation event was realized due to requests by people in Fukushima. Such strong demand inspired us.
The weather forecast said bad news, but I didn't think it would be so cold. It was. Finally we cancelled participation with the kitten's adopting family because of the coldness. Instead, we posted notices concerning adoption for people interested in kittens.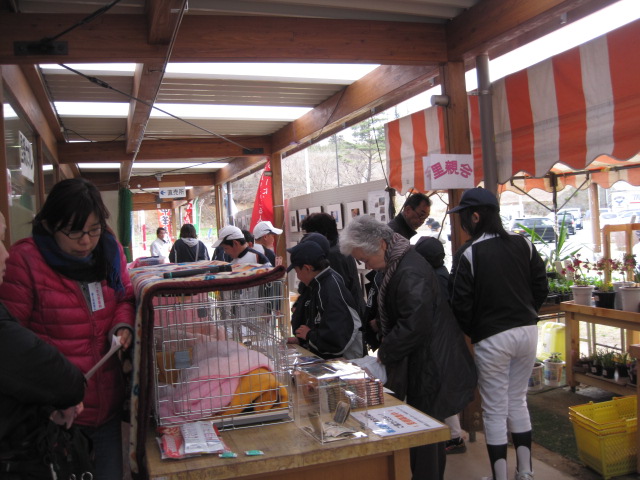 The family considering receiving this old dog, "Kinoko-chan", from the health center, with our staff.
Most visitors were from Fukushima prefecture, and it was a different atmosphere. Many people were living in the off-limits area, and talked with Kouji Nakagawa while looking at his photos.
There was a person who was looking for information about a missing cat. I said "It is better to think that your cat is not rescued yet. So the first priority is feeding." I got the address of this person. Recently many people contact me to get information about their pets. They are trying to find pet photos, but not many people are leaving food in their house. I really want their pets to survive. The top priority is food.
Any living thing has to eat. We don't have the right words to express the suffering of hunger.
I want to tell the owners that it is important to leave food in their house, or wherever the cat was, and at the same time look for the photos of the pets.
Kinoko and Sakura will be trying out life with the host family. It will be hard for the host family to toilet-train them, and compatibility with their current dog may be an issue. I hope it goes well.
Fimally, I want to thank the people of Fukushima, and the volunteers. All of you saved many lives. Your strength helped to make this donation event, and to give happiness to precious lives.
Thank you so much.