Living creatures
October 18th 2012
It is the second Autumn after the disaster in afflicted areas.
This is a house which I have been visiting often, at the owner's request. There is a dog house and a henhouse beyond the house. We were using these as the feeding point, but the grass is too overgrown. We can't get into those places anymore.
This is another house for which I have had a request from the owner. But the garden is covered by grass. The feeding point at the dog house is covered by creepers. I don't think cats can get in to eat.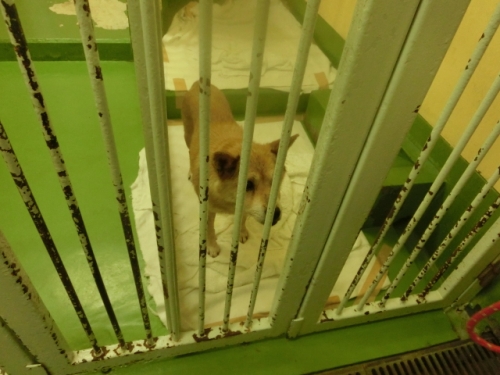 I saw kitten in this area. They can avoid the rain in this damaged building, but it seems that now that people have gone, various animals are living here.
Often "tanuki" ("raccoon dogs") come into the capture cage.
Mr. Mouse. They try to get out from between the mesh but they are a bit too big for that. So I put a towel on the mice and slowly pull them out. It's one of many first experiences I have had.
I have never seen wild animals such as wild boar or fox so close.
Some people said they're making trouble, and kill them. So many lives are flourishing on this planet. It's not just for humans.
As soon as I put down the water, crickets and other small bugs jump in. Such tiny beings also live among us. I always set a stick, as in the photo, when I put the water around my hometown for wild cats. Many kinds of insects are living in the grasses. The insects that fall into the water don't die quickly. They suffer, desperate to get out. If they reach the sticks or the edge of the vessel, they can get out by themselves.
My clothes today are trashed. If I walk in to the grasses, I get so many souvenirs. These are painful.