Came back from Fukushima. Thank you so much for your support.
October 29th, 2012
We received so many plastic cases to make food boxes. The volunteers of Inuneko Kyusainowa and TNR Japan Animal Welfare Hospital helped me to fill the food containers. I don't know when I will be able to go again. We mix the various kinds of food your support has provided.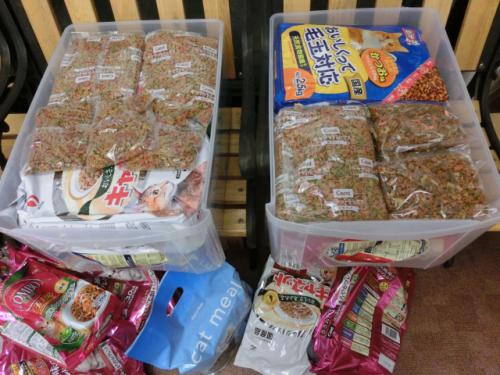 Last time, my car blew out. This time, again, the car is fully loaded. At least I learned how to change a tire at a car shop, and also checked tire inflation pressure.
I have to drive alone for the first day. I feel a bit helpless.
Let's start feeding. I started from Tomioka, where I couldn't go last time. The entire container was empty. I am so sorry.
The resident of this house found their cat. But they still offer their house as a feeding place.
We have tried to be very careful, but the long vacant house became dilapidated. Many wild animals came, and they broke the food container. It is necessary to set a stronger food box, and strive for frequent maintenance. But because this activity is not recognized as a public service, it is not so easy to improve.
A cat seems to be looking for food.
If this activity could be a recognized public service, I could take more time to capture them, and take them away from Fukushima. Then the owners, too, would be saved. There would be less complaints of damage, and increase, of cats, etc. The official attitude towards animal welfare lags behind the necessity for better policies.