New year in Naraha-machi.
New year in Naraha-machi.
Going to Fukushima.
I was not feeling well, and delayed departure for Fukushima by 2 hours. But 2 young volunteers came with me. This was big help and they were great companions for 28 hours.
We set 22 capture cages. We set the baked bonito and silver vine in the cage.
We also set the disposal heating pad and covered the blanket. The 2 girls were working briskly.
Set the new feeding box.
This is the cat bed / feeding box from nyanda guard.
We set 22 capture cages at 11 points. To avoid accidents, we note the setting location, and number them.
Collecting the cages, we check carefully, one by one, the gender and possibility of lactation, and note the location.
Camellia in Naraha.
Somebody said "Beautiful Japan". I didn't get it. But when I get out of the city and come to Fukushima, I can feel the beauty of Japan, if humans wouldn't destroy it.
We could see the ocean and town from the hill. I could see the position of a feeding point where there are many abandoned cats.
The huge loss here can never be recovered. To prevent a re-occurance, and further loss of life from tsunami, sufficient safety measures are needed.
I really wish for peace, and that the town can retain it's beauty, as a place where all the life can enjoy co-existance in harmony. We don't need the nuclear power plants.
It is so cold, the water is frozen. But we have to do the sterilizations now. Otherwise so many unfortunate lives will be born.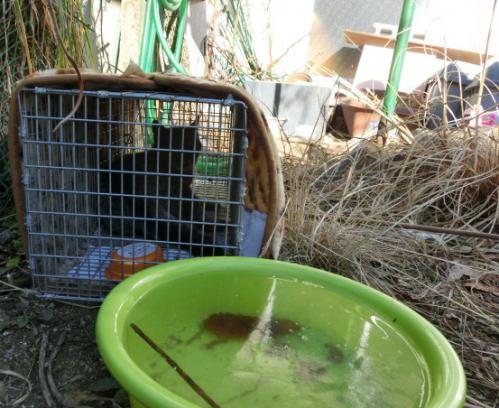 There are so many kittens which were born after the disaster.
We captured 12 cats with big help from 2 volunteers. Thank you, thank you!!!