Feeding activity in Fukushima, April
Feeding activity in Fukushima, April
Pear blossoms in the "impossible-to-return" area.
Such a beautiful town, with such lovely Spring flowers, but no people at all.
A hungry cat runs away.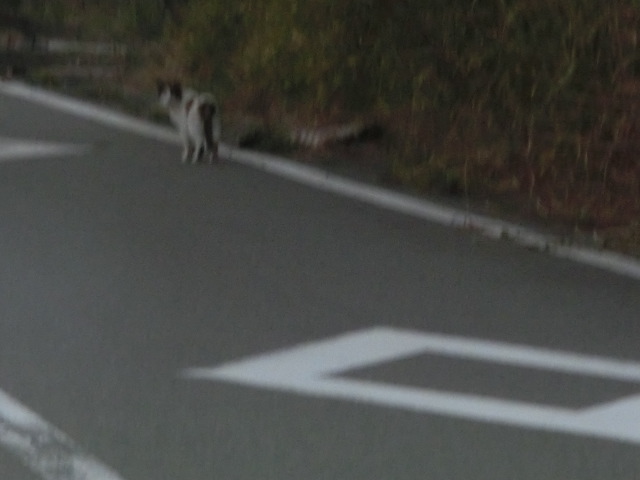 This flyer was posted by a resident. It is kind and generous to think about the lives of pets other than just their own. We can't leave food or set capture cages without permission.
↓
~Translation ~
To animal rescue volunteers: Thank you so much for your activities. Our 6 cats and 1 dog were rescued. We are deeply grateful. The cats currently staying in our yard are stray cats and/or neighbors' cats. If you have enough food, we would appreciate if you could leave some in our barn. We'll be glad if even just one little life can be saved.
However it's also difficult to keep coming to places like this. Our protection activity is done in hiding, so we can't move freely while waiting for cats to come into the capture cage. We must hide, and wait. Camellia in full glory
This beautiful flower heals me. But at my feet, there are hungry lives and dead bodies. The hungry cats are attracted by the smell of food, and come closer. But its back is so skinny. Some of them are nursing. Even a starving mother cat has to provide milk for her young. How they must have suffered.
There was one kitten. Only one survived?
I went back to the same place, but I couldn't find the brothers and sisters.
Move to Futaba-machi. This town is still an off-limits area. This kitten was also alone. It seems about 4 months old.
It was so skinny. After the treatment in TNR Japan Animal Welfare hospital, he/she has gone.
If we could have protected them a little sooner, we could have found a host family, and made a happier future. I am too frustrated, no words.
There was a stormy day in April when I went to Fukushima.
At first, I brought the stock of food to the residents in Tomioka who cooperate with us. This food is from your support. Thank you so much.
Actually the rainy day is a good chance to clean, especially the birds' droppings. We can't use the drinking water for cleaning, but can use the rainwater. Now we can go into Tomioka. So we can start to clean little by little.
However I can't stop thinking; what am I doing, coming all the way from Kawasaki to Fukushima.
This storm was quite big. My hat is blown away, my rain coat is very thin, and my clothes soaked in water and swollen to 3 times their normal size. The seat of the car was soaked......
And there is no end in sight.......