Tomioka-machi - decontamination
May 4th, 2013
One day in Fukushima is not enough for the necessary feeding activity. The cats I met today may have only about a 50% probability of surviving until next time. This is why I want to set the capture cages and rescue them. If they don't get out of here, their chances of survival will be less and less.
So because of that, I set the capture cage and leave for a night. Then take it back the next day. The second day in Naraha. Loading the food (from your support) at the storage.
Put water in the tank.
This yard belongs to a cat owner. Their cat was captured in a neighbor's yard. But this neighbor's cat is not found yet. So this owner opened their yard for feeding.
Even when there is a barn, we often set the food box outside. This is because wild animals wreck the inside of barns, and also to avoid the droppings of crows or other birds.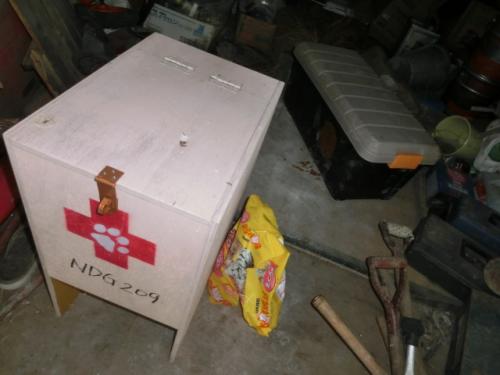 Set and take back the capture cage rapidly.
Decontamination in Tomioka-machi.
It looks like a lot, but is only a part of the grim total.
I don't see any residents there.