Tomioka-machi, part 2
June 25th, 2013
Food is important, but water is also important. One group made an automatic water dispenser for us. Thank you so much.
Until we can use this feed apparatus, we put the water in the pail from the tank which we brought.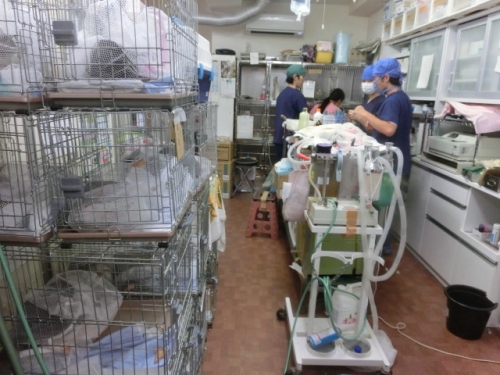 We cleaned around the food box and left a letter for the resident. I had a request from this house to find their dogs and cats. But it's been 2 years after the disaster. I couldn't keep contact during the busy days. They offered their house for abandoned animals. The time goes so fast and I didn't mention my appreciation. It is so late but I always wanted to say my thanks. Finally I had time to leave a letter.
I am so sorry for such late contact. Thank you so much for your cooperation with our life-saving mission.
It took a long time to rescue the house cat following the request from the owner. There were many hungry cats in the capture cage. Some came from far away. Many of them could be returned to their families.
Long after the disaster, finally the cat from this house turned up in the capture cage. The family came to Kawasaki to pick up their cat. Even after that, they let me use their yard for feeding.
After the disaster, everything had collapsed to the point where there was not even a place to step through easily. But we never had even a moment to clean it up until today. I don't know how many times the owner has come back. It is so generous that they let us use this part of the house.
This isn't a photo of the original mess. It is after we finally had a chance to clean up a bit. But time was up, and we had to settle for leaving it like this. I feel very sorry for the owner, we can't clean enough. But time is limited, and we have to go to the next feeding point.
The town having been removed from off-limits status, there are temporary toilets here and there. What a relief!
After we finish leaving food, we collect the capture cages.
A tortoiseshell cat was captured but she is in lactation. I released her.
A tortoiseshell cat.
We found her about 300m from Tsukinoshita crossing in route no.6 It looks like this cat was a house cat.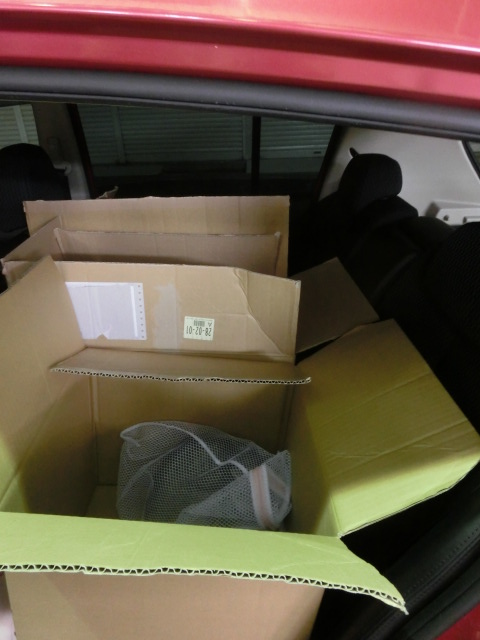 We brought so many kittens to Kawasaki. They have been entrusted to the veterinarian of TNR Japan Animal Welfare Hospital. Many people have saved many lives. Thank you so much everyone. But I am deeply sad to think about others lives suffering and dying while awaiting rescue.
Kittens, 3 to a cage, await the health check.
Please support our relief activity to save the life.