Life in Fukushima. Please listen to the heartrending cry of animals!
October 22, 2013
Life in Fukushima.
Please listen to the heartrending cry of animals!
This cat must have a family.
It's been 2 years and 7 months since the disaster. It is too lonely.
I am sorry that I don't have enough stength.
I'll surely to come back to pick you up.
I can hear this cat's voice from behind the black bag of contaminated ground, saying 'where is my family'......
The winter here is long and freezing.
I want to hold them, wrap them in a warm blanket.
Wild boars increase day by day.
This one was a child just a little while ago, but now it seems she has 6 children.
This result is obvious.
Leave them and increase them.
Then set the hundreds of traps in every town and leave them without any food.
Kill them in such cruel way.
How could people fail to think of a better way, or even consider the need for one?
These are very sad photos.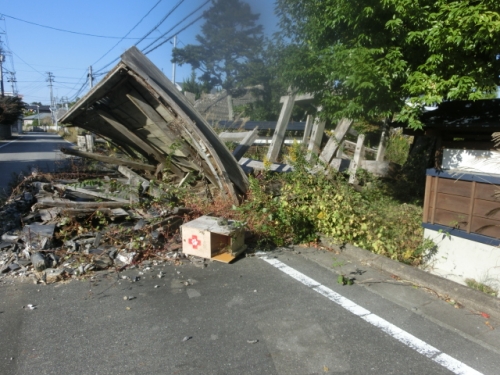 The feeding point is too far for a kitten.
Despite being held and nurtured by the mother cat, the skinny cats barely grew up.
To sooth the hunger they have to eat small bugs, but they can't hunt well enough.
Then they themselves may be hunted by crows, or sometimes hit by reconstruction and decontamination vehicles.
For what were they were born?
As soon as they were given birth, they have only hard times.
It is the same life, but too sad.
It is the same same same life, isn't it?
Why am I here. I stand petrified with my powerlessness.
What I am doing here alone. I want to depend on something.
I want someone support me. I want to cry.
I leave for Fukushima at midnight.
thank all of you who support in various ways.
I have a favor to ask of you.
Please think about being foster parent.
It certainly could save one precious life.
Please join us as a volunteer.
Anything you want to do is welcomed. Please support us.