58 years old birthday in Fukushima.
December 28, 2013
58 years old birthday in Fukushima.
I reached 58 years old birthday in Fukushima.
It is not stylish.
What I wear is heat-tech from my fellows.
This is so warm, and my favorite.
Then this year, she gave me another one, pink.
Well, not that I minded, but the blue one was getting so old.
That's because I was wearing it all the time.
I bought this vest in a hardware store.
I call it my Doraemon vest.
There are so many pockets, very practical.
I wear too many layers under the trousers.I wonder if I can move well.......
My first activity as a 58-year-old old has started.How long can I continue this?I can't stop if animals are waiting for help.
・・・・・・
Next day I came back to Kawasaki.
I am so exhausted.
I am so grateful to have reached my birthday.
Grateful to be alive.
I thank all of you who support me.
I want to share this joy for living with animals in Fukushima.
I will report to you again later.This is the end of the day.
It's already dark but I can't finish yet.I have to get out before the barricade is closed.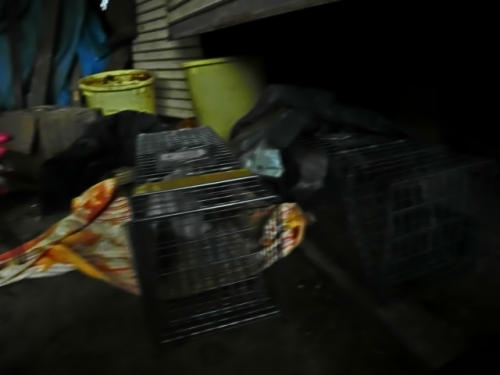 This is near Fukushima I Nuclear Power Plant.
The rescue party is active in Fukushima and everybody is so busy.
But I wanted to rescue these 2 young cats and I asked them for urgent help.
They corresponded willingly and quickly.
Then we could rescue them at the last moment.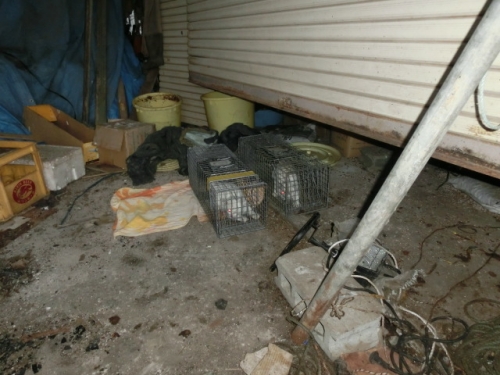 We devised the food box with Nyandaguard so that even small kittens can eat.
Some volunteers brought the food to places where we can't go.
Protecting, one by one, kittens that survived in such a hard environment.
Nationalization of the 20km area may happen for an interim contamination storage facility.
To rescue all cats before that..............well, I don't think our country says that.
We have to find your mother.
I want to rescue all of them.
I want to give them a life without suffering.
I want to give them some small happiness.