Everyone's power! Sterilization for overbreeding cats.
June 25, 2014
Everyone's power!
Sterilization for overbreeding cats.
How we Inuneko Kyusainowa think.
There are so many problems involved with rescue activity, whether it is one cat or many cats.
Volunteers for rescue activity have to handle big trouble.
The way of rescue varies depending on the situation.
I always appreciate volunteers who face trouble head on to rescue animals.
What I want animal volunteers to do in any situation is take care of vaccination and sterilization.
Of course treatment depends on health condition.
During the transportation, we don't know where they might be attacked by a parvovirus.
There are no assured safety, even in the shelter.
It's not so hard to find foster families for longhair cats, or imported dogs and cats from closing cat cafés and collapsed breeders.
But I oppose farming them out without sterilization if they are big enough.
Even if you are leaving them in somebody's care, it is necessary to do vaccination and sterilization.
For emergency situations, it is important to confirm who has the responsibility of doing vaccination and sterilization.
In overbreeding situations, the possibility of pregnancy is high.
In this case, babies will be born while someone is taking care of them.
Concerning the overbreeding case in Odawara, our veterinarian said there are 46 unborn kittens.
If male and female cats living together, it is natural.
Their skin is dirty and the inflammation is severe.
I want to clean them.
But anaesthesia is risky.
Shampoo and trimming will exhaust them.
It is better not to touch them so much if the vaccine doesn't take effect.
But before that, if the veterinarian thinks it is ok to do the operation, sterilization takes priority.
We can trim them while they're under anaesthetics for sterilization,.
Then we don't have to give them anaesthesia twice.
Accidents from anaesthesia don't happen so often, but it is better to avoid the risk.
I recommend doing vaccination and sterilization, and then transport.
It costs a lot.
But this is what we get donations for.
This is a very important matter, and I want everyone takes responsibility for it.
Thanks to everyone who is involved with the sterilization of overbreeding-incident cats in Odawara.
This is the veterinarian team of TNR Japan Animal Welfare hospital.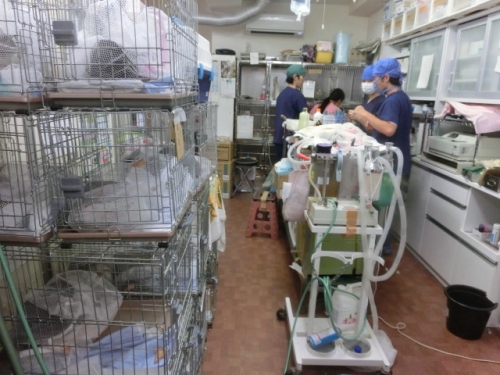 The nurse checks the health condition before/after operation, in support of the veterinarian.
This is the cat's room in our hospital.
She is a new face.
She learned how to work with other volunteers, and check the health of cats in the cage.
They are volunteers of Nyanda Guard.
We were able to do this because of them.
They rescued cats from Odawara and Kamakura every day.
One of them is from Kawasaki, and was a client of TNR Japan Animal Welfare hospital.
She is very friendly person.
I am sorry I have to ask for transportation between Kawasaki and Odawara every day.
She has a big car, and it is really helpful.
For your reference;
If you don't have enough cages or carry cases, you can use a washing net which you can buy at a 100yen shop.
Put a cat in the net and close the zipper, and then add packaging tape, just in case.
Then put it into the cardboard box or shoulder bag.
You have to make an air hole in the cardboard box.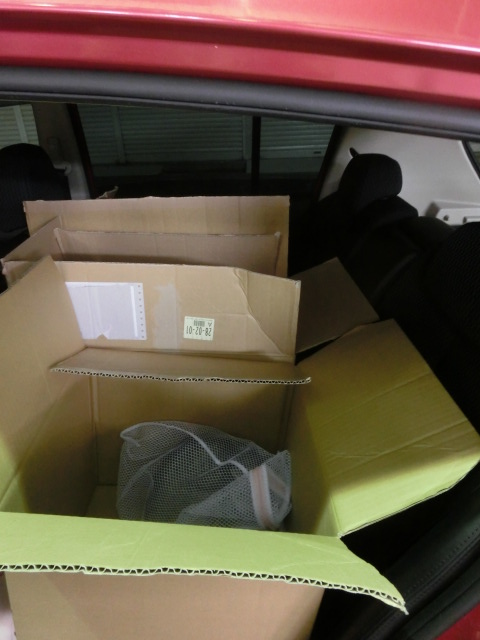 The collapse from overbreeding of cats in Kamakura was in the news.
I don't know if it is a breeder or just overbreeding.
But all of them are longhairs.
The hair, which was hardened by feces and urine, became like armor.
If I grab them, the hair falls out from the roots, and they bleed.
This is a tragedy, longhair cats in such a situation.
I transferred only 2 of them.
The sterilization and trimming was done.
I hope they learn to use the toilet….