A old female dog "Baaba" (grand mother) in Kawasaki Animal Welfare center.
October 17, 2014
A old female dog "Baaba" (grand mother) in Kawasaki Animal Welfare center.
Impounded dogs in Kawasaki Animal Welfare center.
The old dog wears a collar which was about to rot.
Examination of filaria was positive.
Mammary tumor.
What kind of life did this dog have?
Why did this dog come here?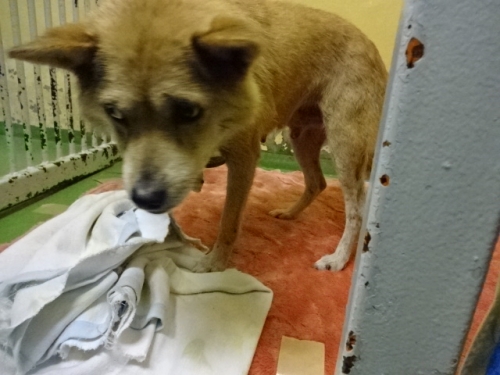 Our base is in Kawasaki, it is on a residential street.
This is not a good environment for dogs, so we could have only a few.
Right now, we accept puppies from Ibaraki Anima Welfare center, and find their foster families.
Our space is so small, but so many puppies find new families and happiness.
If we accept one old dog, this dog needs the space for quite a long time.
All life is precious and I want to save them all.
But it is so difficult.
I have to decide each time, depending on the situation.
I discussed it with Kawasaki Animal Welfare center.
What I want is to do everything I can do for impounded dogs and cats.
We do medical treatment and get them back to good health.
Then take them back to Animal Welfare center and find foster families.
If I have to take care of them for rest of their life after the treatment, well, I can't do everything.
But at least for now, at the center, I can take care of their health.
This idea is from a volunteer at Kumamoto Animal Welfare center.
They have been doing this for a long time.
I was hoping Kawasaki Animal Welfare center could do something similar, and give them a chance to live happily.
I offered them my idea and they agreed.
And there are so many risks, but they entrust this old cat "Baaba" to Inuneko Kyusainowa.
Do the health examination at TNR Japan Animal Welfare hospital and, if it is possible, do the operation for the mammary tumor.
I want to do everything she needs.
I wish a happy future and life to this dog.
There is also a super old female dog in the center.
I want to accept either one somehow.