New Year's Day, a protest movement in Suwa Taisha shrine.
January 1, 2015.
■You should stop the cruelty to any creature
■Cruelty of adults is virtually handed down to children via live frogs on skewers
■Stop the skewering of live frogs! Request a substitute.
■The Japanese should open their hearts and love small life.
■Now that the Katori shrine and Kashima shrine quarrel has been lost, it looks like the god that flowed into Suwako Lake favors bullying the weak by Shinto ritual sacrifice.
  *********************
Every year on January 1st, Suwa Taisha shrine holds a Shinto ritual to dig up the torpid frogs and kills them by impaling them alive on skewers.
What kind of meaning can this useless torture-killing have in the present times?
Thank you so much for my birthday messages and new year messages through Facebook.
I am so sorry I couldn't answer each of you.
This is the Twitter of Kishimoto.
We did a demonstration to Suwa Taisha shrine protesting against anachronistic skewer sacrifice of frogs.
pic.twitter.com/W0t8ev5K69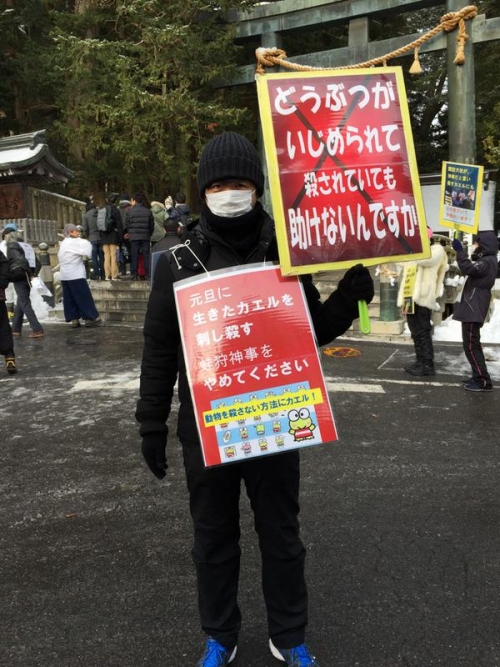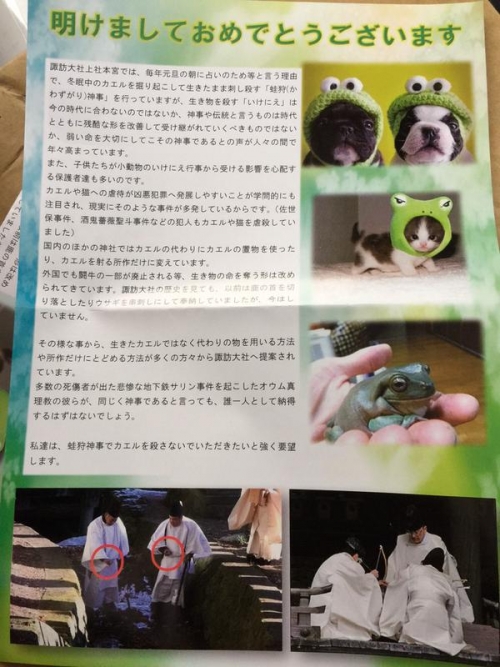 Kei, Riru and Vivian came from Kansai.
From Kanto, Tsuruta-san, from Capin, and other reliable members.
Kishimoto san drove the car. We safely passed through bad weather on the Chuo Highway, and arrived at Suwa Taisha Shrine in Nagano.
It was freezing, and our hands and legs hurt from the cold.
I learned a lot from everyone's action.
I think it is important to know the actual situation, and report it.
I did my best, and I think that I was able to achieve that somehow without becoming a drag.
After coming home, I warmed my body, but can't get back a normal sense of my body.
I am wondering if everyone got home safely.
Thank you for your hard work.