Activity in Okuma, Fukushima.
May 28, 2015
Activity in Okuma, Fukushima.
In hot weather,
we set the capture cage to rescue abandoned cats as usual.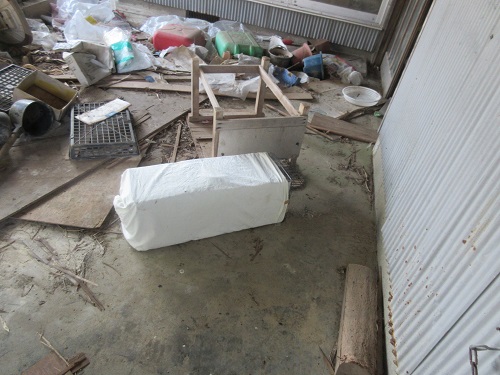 We leave water, as much as possible.
It is the season of the insect.
This stick from a tree is necessary to save small life.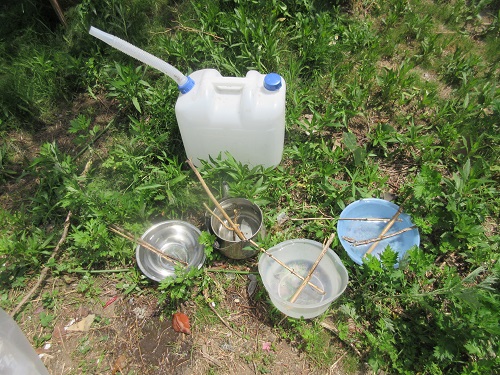 Bringing the food is so hard.
But this is full of love from our supporters.
We want to help them live, and satisfy their hunger.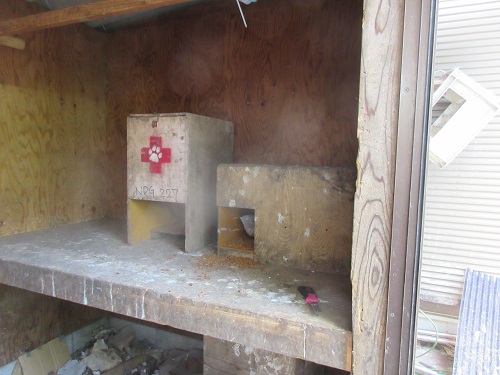 We set the feeding box at a high place to avoid wild animals.
I can use only 2 fingers of my left hand, so it's hard to lift it up.
I lean a board up diagonally and put food in the through back.
But I can't do everything well, and get frustrated in the limited time available.
In this cooperative activity, the number of feeding points increases, and it's hard for everyone.
But we all believe that after we get over this situation, Fukushima activity can scale down. It will be easier to just check the sensor cameras and set the capture cages every day.
The sea is about 100 meters up ahead.
Cats are left in no men's land.
If we abandon them, they can't survive.
Takecchi and Sakura Mama used to visit this place on their own, but now cooperative volunteers come in turns.
Let's go to the feeding point.
This is Madao' masterpiece.
We still can't find 2 more cats belonging to the owner of this house.
Madao set the camera and took the video.
I can't do anything but clean the entrance.
There are so many mouse droppings.