☆Cooperative rescue activity in Fukushima on June 12 and 13.
June 21, 2015
☆Cooperative rescue activity in Fukushima on June 12 and 13.
We stopped by the reception desk with other volunteers.
2 staff members were talking.
"They are from an Animal Welfare Organization"
That surprised me.
If they ask, 'are you from Animal Welfare Organization?', we will be confused about how to answer.
If we say "No", it sounds like "Yes".
Why doesn't this country accept animal rescue?
Why don't they say "Thank you!"?
The reception staff is always different.
It was good people on this day.
They didn't say anything, and we passed through the gate.
Then we started the activity as usual.
I learned how to clean the dirty food box with a cup of water.
The water is precious.
Outside of the box is still dirty, but we leave the food.
It is so difficult to do everything in such short time.
Bumping up against the time limit, all of us gathered at the last feeding point.
I didn't have enough time to take photos, and this is all I took.
Then I took the last one when Mrs.Tominaga was supplying water.
This food box is made by Madao.
It is still fine.
We finished the feeding, and tending the water supply, and set and collected the capture cages and the sensor cameras on time.
Then on to the screening area.
It is now the 5th year.
I may have been exposed to radiation.
I feel languid these days.
But while in Fukushima, I forget about that.
I always take a deep breath when I get out from the barricade of Okuma and Futaba.
Then slow down, and go to Tomioka and Naraha with another volunteer.
I take charge of capture and feeding in Tomioka.
When I was leaving food, a police car came, and they asked,
"What are you doing?"
People can come into this area during the day legally and I don't have to be nervous.
"Cats are still here, and someone asked me to feed them. Has something happened?"
I asked a police man.
He said,
"A tractor disappeared from here. Do you know when it is disappeared?"
Well, yes there was a tractor here.
I was surprised to hear about it.
Still now, this kind of thing is happening in the town without people.
Let's go to the next place.
I rescued a cat this time.
I give thanks to Matatabi & Nekokatsu.
This is a difficult place for cats to live.
But I can't remember how many cats we rescued here.
The body is small.
But the belly is so big.
This place is in a field, and we hide from the old checkpoint.
It is not possible to release it after the sterilization.
I want to rescue all of them, and be finished with this place.
But there may still be some cats.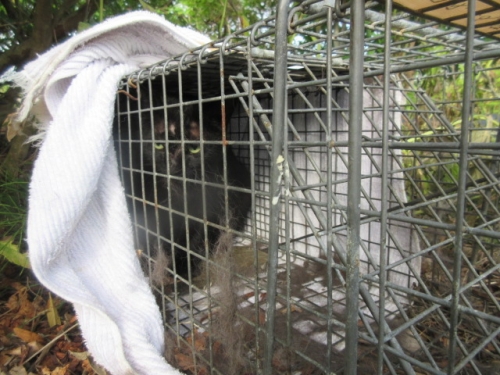 Mrs.Tominaga brought this cat to TNR Japan Animal Welfare Hospital in Kawasaki right away to get sterilized.
She arrived the hospital around 8pm.
It was after the hospital had closed, but a veterinarian did the operation.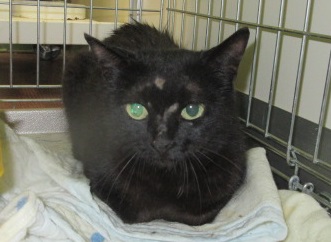 It never gets easier, this rescue activity in Fukushima.
But at least, with everyone's efforts, some lives are saved.
I thank you so much for your support.