Shiro in Tamagawa riverbed.
December 16th, 2011
This year, most topics have been about the suffering animals in the disaster area. However, we must not forget about the animals in our local region.
There are so many abandoned dogs and cats in the Tamagawa riverbed, (Between Ota-ku, Tokyo and Kawasaki, Kanagawa), along with homeless people.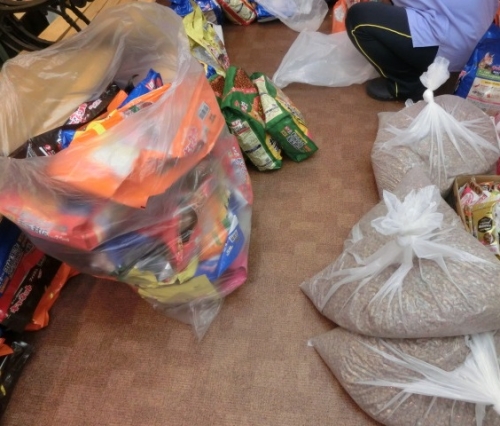 This is Shiro, 13 years old. He likes to bite, even the owner. But this owner takes care of Shiro, and as well as other dogs and cats. After a while, we brought food. Then we found swelling on Shiro. We brought him to TNR Japan Animal Welfare Hospital. It was cancer. We discussed with the owner whether do an operation or not. The owner lost another dog recently, which was 16 years old. The owner was terribly worried about whether Shiro could stand up to the operation, or if something might happen when Shiro stays in the hospital or… full of uneasiness. But he finally made his decision to let Shiro undergo the operation.
The operation was successful. As the anesthetic wore off, Shiro started to bite daily (!). The doctors, who have so much experience with violently resistant cats, had to be very careful about bites.
The owner was so happy when he came to meet Shiro. Shiro was also very happy. Our doctors were also happy, and relieved. See you soon Shiro. Take care and live long, but don't bite too much.