Came back from Fukushima.
March 23rd, 2012
The cattle
The first day.
Our purpose was 1 ton feeding.
The first feeding point in off-limits area, Tomioka-machi. Last December, we had information about a black cat. Not giving up, we set 2 capture cages.
What a surprise! 4 healthy head of cattle here! We left 20kg food from donations we had received in support of cattle.
Bon apetite!
They ate well. We left water, but because of the rain yesterday they are not so thirsty.
Naraha-machi to Namie-machi, we ran around feeding and capturing.
There was one cat in a capture cage. The cat looks fine because there is always food there. This cat wears a pink collar. I will write about this cat later.
The cattle which we saw in the morning looked relaxed, and well fed.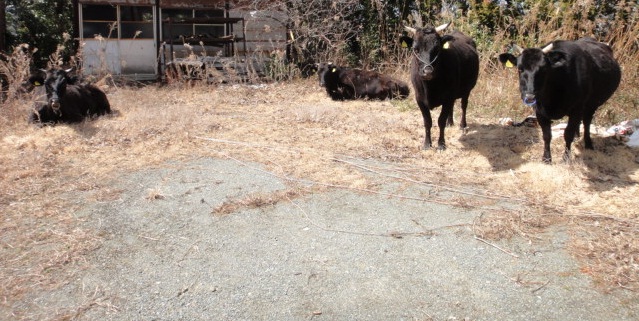 They were looking at us with cute and tender eyes. This was a peaceful time.
We left more food. Please be well, and survive. Do not get caught until rescue.
I am going to contact the society for farm animals to help the cattle.